18 May 2023
"As they talk, we continue to suffer," says Khartoum resident and former pharmacist May Babiker. Like many others in Sudan's capital, May's employment at a pharmacy in Khartoum ended abruptly due to the looting by Rapid Support Forces. Now she says she can only wait and hope international and local pressure will ensure an end to the month-long conflict between the army and paramilitary Rapid Support Forces (RSF).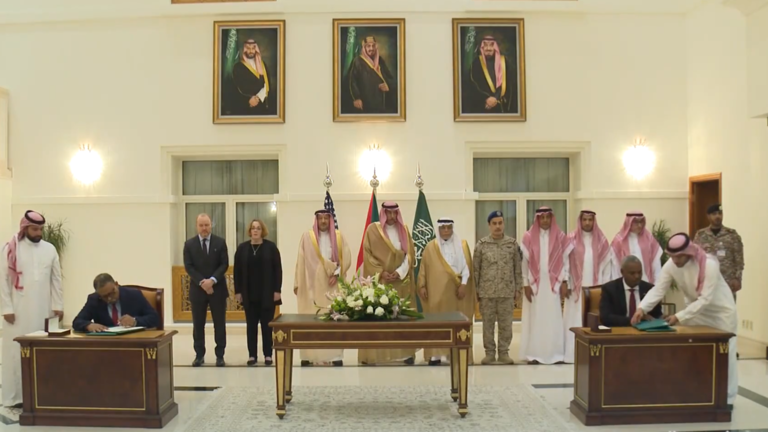 The negotiations mediated by the USA and Saudi government designed to usher in a truce and humanitarian access resumed yesterday in Jeddah, Saudi Arabia. The US has expressed cautious optimism towards the negotiations and has hinted that targeted sanctions against the warring party leaders, Lt.-Gen. Abdelfattah al-Burhan and RSF commander, Lt.-Gen. Mohamed Hamdan Dagalo ("Himmedti") could provide the pressure needed to establish a genuine ceasefire.
The United Nations Human Rights Council also held a special session last week and issued a statement calling for an immediate ceasefire and for human rights, justice, and accountability to be central to any solution to the crisis. While human rights leaders such as Hassan Shire, the executive director for Defend Defenders, support the resolution, many do not see it going far enough. "It remains below what is objectively needed," Shire said, "namely an investigative mechanism that exposes and holds accountable those responsible for inflicting this misery on the Sudanese people."
Despite these pressures, there appears very little will on either warring party to uphold a humanitarian ceasefire, let alone negotiate a peaceful settlement to the war. "The low-key delegation sent by the two Sudanese parties to Jeddah reveals that neither is honestly interested in a fruitful outcome," writes Ahmed Fareid El Tayeb, a former advisor to Prime Minister Abdalla Hamdok.
The US and Saudi Arabia have proclaimed six times since the war started that a humanitarian ceasefire has been reached –-they have been very wrong each time. In the latest case, the warring parties signed in Jeddah a declaration of commitment to protecting civilians –all the while bombs and shelling continued in Khartoum and Geneina, West Darfur. 
Done in near complete secrecy without any civilian representation in the Jeddah talks, many Khartoum residents remain skeptical. "The Declaration of Principles for the Protection of Civilians signed between the army and RSF will not be effective unless it is followed by other agreements such as a short-term ceasefire to help civilians," says political analyst and writer Abdullah Rizq.
Since the conflict started on 15 April, the death toll has reached 822, while injuries surpass 3,215 according to the Doctors Union, with most casualties in Khartoum, El Geneina, Nyala, and El Obeid. Over 150,000 people have fled across Sudan's borders while 730,000 people are estimated to have been internally displaced, according to the International Organization for Migration. On Monday, the World Food Program warned that starvation is set to surpass all previous records in Sudan and called for an urgent response as over 2 million people are expected to slip into hunger –especially in West Kordofan, Blue Nile, Red Sea, and Darfur states.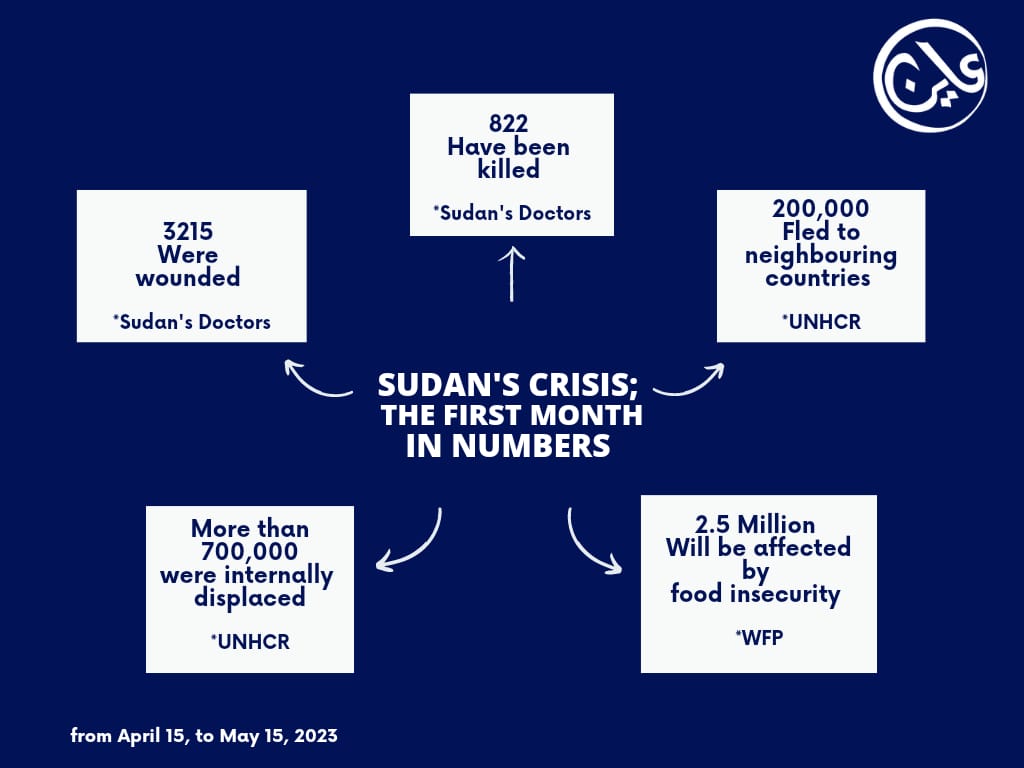 A ghost town
For many citizens residing in the capital area, the bustling sounds of the markets have been traded in for ear-piercing bombs and shelling. Once busy streets are now deserted, a ghost town, as many residents have fled to safer locations inside and outside the country. "We became worse than Gaza", Salah El Dien, a citizen from Khartoum North, Bahri, told Ayin. "Our area is relatively safe, but we constantly hear artillery and airstrike sounds, the nearby Kafouri and Kober areas were abandoned by the residents as the RSF took over most of the territory," El Dien added.
The already weak healthcare system in the country has deteriorated miserably since the start of the conflict, as both patients and medical staff cannot reach the health facilities in many areas due to the clashes, leading to higher mortality rates, including those with chronic illnesses struggling with severe medicine shortages.
"The main problem facing specialized hospitals is the difficulty in accessing the facilities for doctors due to the poor security conditions, which also prevent patients from reaching the hospitals. The situation is very difficult in Ahmed Qassem Hospital, which is now operating in constantly with a high death rate for the patients, just like other hospitals," Dr. Attia Abdullah, the secretary of the Sudan Doctors' Syndicate, told Ayin. Abdul Qader, a resident of Omdurman, told Ayin that decided to avoid the hospitals despite his condition after hearing horror stories of patients dying within the hospitals due to a lack of medicine.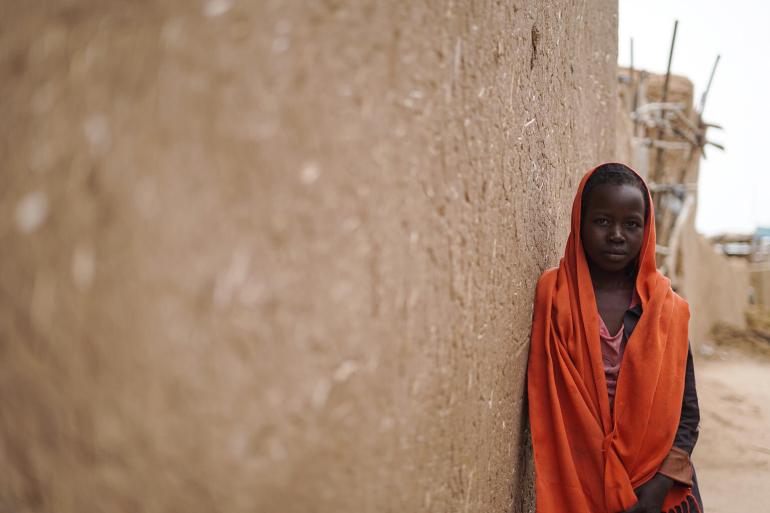 The war has severely impacted children, many now contending with trauma. "My children live in a state of panic," says Omdurman resident Mohamed Abdulkarim. "When they hear airstrikes and gunfire sounds, they run to the bedroom and hide under beds and chairs. They are deprived of normal sleep and eating." Abdulkarim plans to relocate himself and his family to the Kordofan region despite the costly bus tickets since he fears for his children's mental health. Dr. Asmaa Mohamed Jumaa, the Director of the Psychological Counseling Center at Al Nelein University, pointed out that the war will have great mental and emotional effects on children, as they fall into a state of fear, nightmares, and psychological suffering, which can have a lasting impact on their future and their lives unless treated properly, and with the guidance and care from their families.  
 In a shocking statistic, UNICEF stated last Saturday that seven children die hourly since the start of the fighting, 190 children were killed and 450,000 have fled their homes.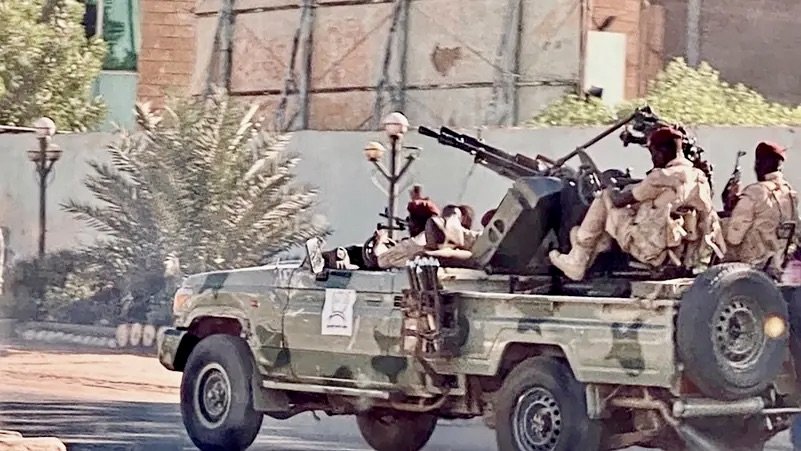 Disappearances
While many have fled the capital, leaving the streets empty, an increasing number of people have gone missing, residents told Ayin. Only a few have returned from "detention centers," according to the testimonies of activists leading the search operations on social networks.
"The number of the missing people is between 180 to 190, and about 10 people returned to their families after being unrightfully detained by militias that took dozens of civilians from the streets," according to a source requesting anonymity for security purposes.
"We are in a very dangerous situation, and we fear for the safety of the missing people who got arrested," said the same source who works with a civilian-led imitative to track missing persons.
Essam El-Din Ahmed Issa is one of the missing, he left his home in Omdurman heading to Khartoum North by a private car when armed men stopped him and looted his car taking all his belongings before releasing him. "Essam El-Din left the house again to Khartoum on 29 April, without his phone, and he did not return since," the sister of Essam told Ayin. "With the current security issues, we cannot go out to search for him." Without a functioning police force and rampant insecurity on the streets, the fate of Essam and many others remain unknown.
The lack of surety over the fate of loved ones is further compartmentalized by the deteriorating access to telecommunications. "Last week relatives told me my brother had grown ill and was taken for treatment," Omdurman resident Abdisalam Ali told Ayin. "But then all communication collapsed, and I could not even inquire as to where he was being treated." Eventually, Abdisalam was able to reconnect with this brother, but this was after living "in a state of panic" for several days.
The communications problems also impact business owners as people cannot use electronic payment methods to complete their purchases. Communications engineer, Abdullah Hashim, told Ayin that most of the problems in the telecommunications sector are operational. "The main reason for the service deterioration is the electricity outage, as well as the shortage of fuel for the power generators that most of the telecom companies rely on." The fuel crisis has also – indirectly – affected the communications sector as many engineers and technicians stopped working since the start of the conflicts. There are also communication towers that have gone out of service after getting bombed or damaged with no possibility for maintenance.