31 December 2020
The second league of Sudanese Women Football kicked off last Saturday in El Obeid, North Kordofan State despite facing a field of contention among Sudanese critics who oppose women's participation in sports.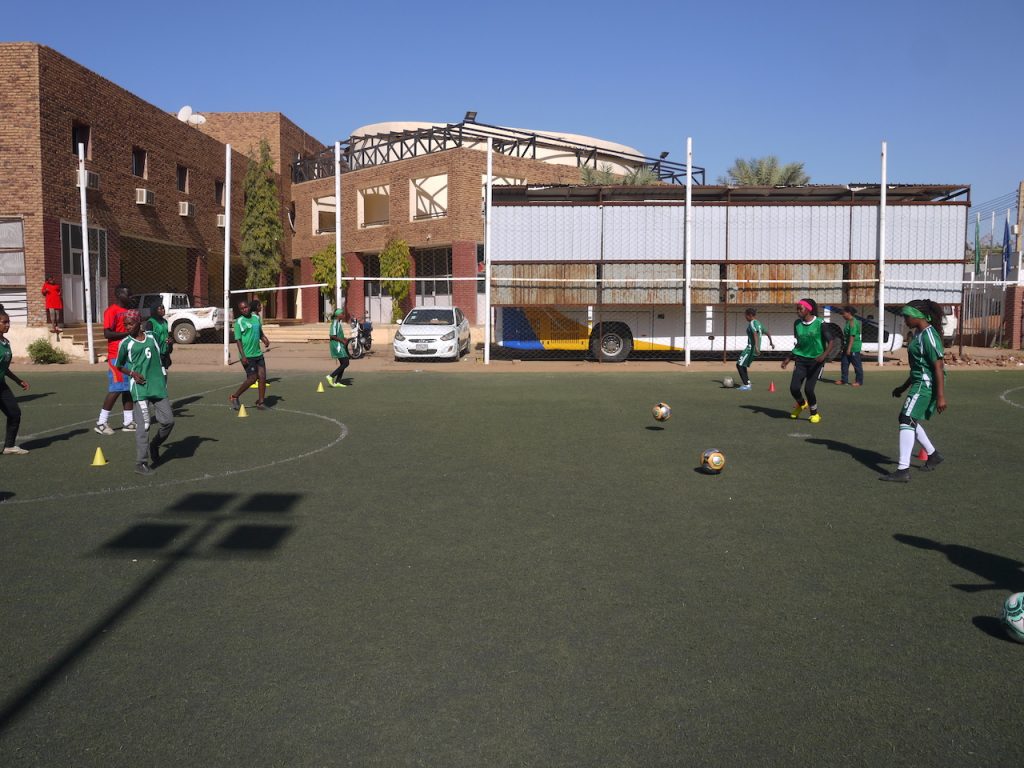 Last season, the Al-Defense team won the first league championship after defeating the Al-Tahadi team with a free goal at Khartoum Stadium with the top scorer in the championship, Elham Beltone. North Kordofan State Governor Khaled Mustafa attended the opening ceremony along with the Sudanese Football Association.
Not all, however, are supportive of Sudanese women partaking in sports and oppose the second league's launch. The Salafist preacher Abdel Hai Youssef accused Youth and Sports Minister Wala'a Essam al-Boushi of blasphemy and apostasy for launching the women football league in October last year. The accusation follows a 2012 fatwa issued by the Islamic Fiqh Council in Sudan that forbid the formation of a women's football team. Minister al-Boushi filed an official complaint against Youssef.
Despite the stigma coming from certain corners in Sudan, the Head of the League, Mervet Hussein, is keen to continue. "Twenty-two teams from different Sudanese states are participating in the second league and we expect it to be a huge success just like the previous one."
30-year struggle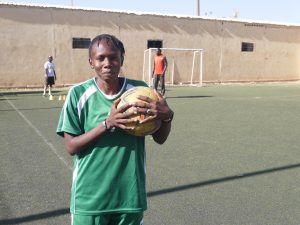 "For three decades the Football Association didn't acknowledge women football, last year was a great victory for us," says Nidal Fadlallah, the captain of Al-Tahadi, the first female team in Sudan. "We have been struggling since 2001, trying to practice football," she said as the team trained ahead of the league.
Prior to the revolution in 2019, only one female football team, Al-Tahadi, existed but now there are 21 different teams across the country. "I'm very proud that my dream for women football to spread throughout the country is becoming a reality, and we left our footprint in Sudanese history. This is part of our rights", Fadlallah said.
Fadlallah says her journey started nearly two decades ago where she and a group of women would play on "Comboni Ground" in Khartoum –the only field that allowed women to play. As the number of female players increased overtime to 21, they started renting fields to practice. "But male players regularly kicked us out, so we started looking for any empty spaces to play – low key areas away from the harassment of society." All the female players took risks, even in practice. Religious leaders condemned them and authorities issued a subpoena in 2017, claiming their activities were haram –against the will of God. The team was regularly ordered to report to the police station.
Sometimes, the challenges did not come from the state or Mosque, but from home. For Fadlallah, playing football was not a big issue for her family, but as other team members faced problems at home for their interest in football. The team would try to support them overcome these family-based misgivings, she said. "Most of the girls in the team struggled with Sudanese society issues, but we are more than a football team – more of a family – and since we know the girls' families, we made it easier for them." Every week, Fadlallah said, the team would visit their team members' homes to develop a sense of trust within the families. This, the football captain said, played a significant role in encouraging female players to join the sport.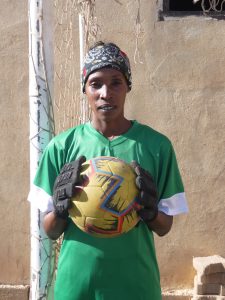 But not all other players face social stigma, says Huda Ali, Al-Tahadi's goalkeeper told Ayin, who has been playing for 10 years now. Her family was very supportive as they knew she loved football; "you're a big girl now, do whatever you want and take care of yourself," she said they told her.
Nuha Muhsin, the team's secretary and a former player says that people in remoter places love football. Whenever the team visits their home areas, they partake in friendly games –sometimes with male players. "People in remote areas and outside the capital come to watch and support us –even financially sometimes. They have a simple life but open minds. The problem is more in Khartoum."
She explains that she kept playing from early childhood up to her teenage years as her dad – who was a policeman – supported her and defended her choice. When people in her hometown of Wad Medani complained to her father, accusing her of being too much of a "Tom Boy", he told them that her high grades in school were enough for him.
"I was brave enough to continue, but my male peers were ashamed of me and I had to stop as no one played with me anymore," Muhsin told Ayin. When Muhsin came to Khartoum, football was completely banned for women in college. "Sports-related to the hand were [acceptable] for women to play," Muhsin explains, "But those with feet were for men only –it was more of a social standard than a religious thing."
Brighter Future
Facing a barrage of criticism from some sectors, the team has had to compromise to allow them to continue. "After the negative feedback following the first league, the association changed our outfits; and now we cover the legs entirely and wear long sleeves, but girls can either cover their hair or not", the captain says, adding that this compromise does not bother them at all as long as they can keep playing.
"I see the future is very bright, more ladies are playing football, encouraging each other and mixed teams are growing. The community is building itself in a good way. Our team is going to be mixed as well – we are starting a program for boys under eighteen," Muhsin added.
They, however, hope that the Sudanese community shows more support to women football teams and more equality in terms of funds. "We are independent and will remain so." The association helps, Fadlallah says, but this support does not even cover the player's transport to and from matches, let alone food and water. The team essentially survives by the goodwill of its players, Al-Tahadi's captain said.
But there is one issue Fadlallah is more concerned about over the finances: winning this championship. "We came second last year, but our goal is to win the cup this time."