30 October 2021
The durability of the military coup announced by the former Sovereign Council leader Lt.-Gen. Abdel-Fattah al-Burhan appears tenuous in the face of today's mass protests and internal pressures.
Massive protests against Burhan's Monday coup are taking place across the country. Eyewitnesses in Sudan's capital Khartoum claim hundreds of thousands, if not a million, protestors took to the streets today of Khartoum and the twin city Omdurman.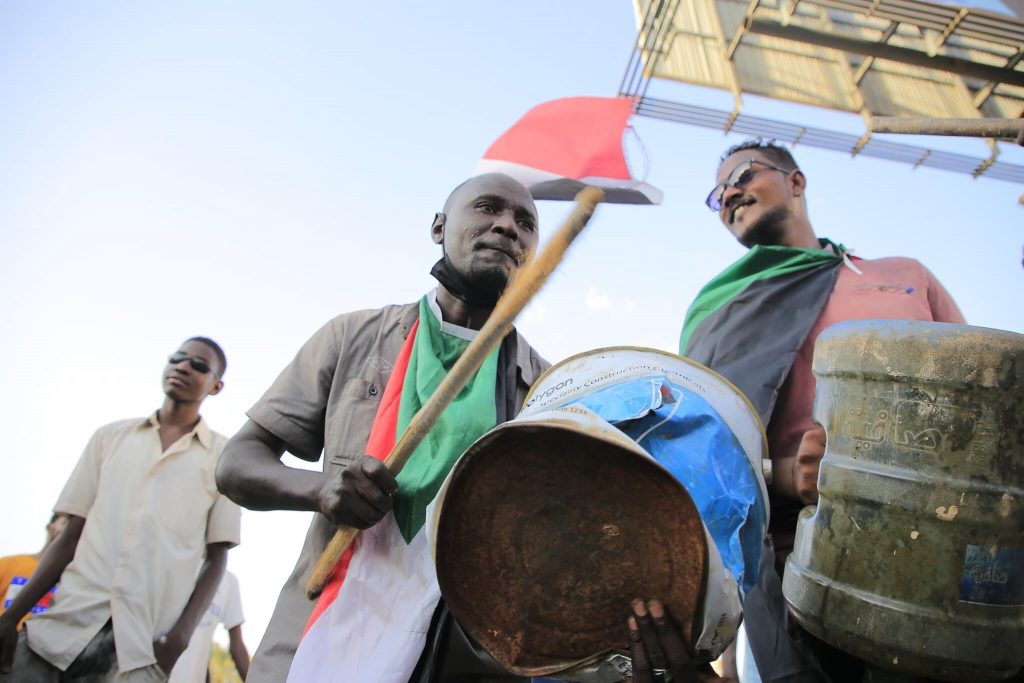 Protestors carried protest signs and pictures of Prime Minister Abdalla Hamdok, who has remained under house arrest since Tuesday. "Close a street, close a bridge, we're coming straight to you!" chanted protestors marching in downtown Khartoum. Security forces have blocked roads leading the ministry of defence and airport, the same sources said. The Central Committee of Sudanese Doctors has reported that two protestors were shot dead by security forces in Omdurman during the demonstrations.
On Thursday evening Burhan claimed Prime Minister Hamdok could actually return to his position and freely select a new cabinet comprising of technocrats. "We told him that we cleared the stage for you, we will not intervene in the government," Burhan said in an interview with Al-Jazeera. The premier said he would be willing to negotiate on the formation of a new government today if the military reverses its coup and release detainees, according to sources who met him and news reports.
Whether Burhan will agree to release the detainees, however, is still in question since he said in an earlier statement that only detainees who were not "facing criminal charges" would be released.
Current officials detained include Sovereign Council member Mohamed al-Faki, Information Minister Hamza Baloul, Industry Minister Ibrahim al-Sheikh, Khartoum State Governor Ayman Nimir, State Minister Khaled Omar, Spokesperson of the Forces for Freedom and Change (FFC) Jaafar Hassan, Sudanese Congress Party leader Omer al-Digair, and advisors to the prime minister, Faisal Saleh and Yasir Arman –all remain incarcerated along with other officials.
Security forces have targeted civil society activists and journalists, especially members of the resistance committees –civilian-led groups set up to support the demands of the revolution during the transitional period. At least 14 protestors have been killed and 140 injured since the coup took place on 25 October, according to local sources and news reports.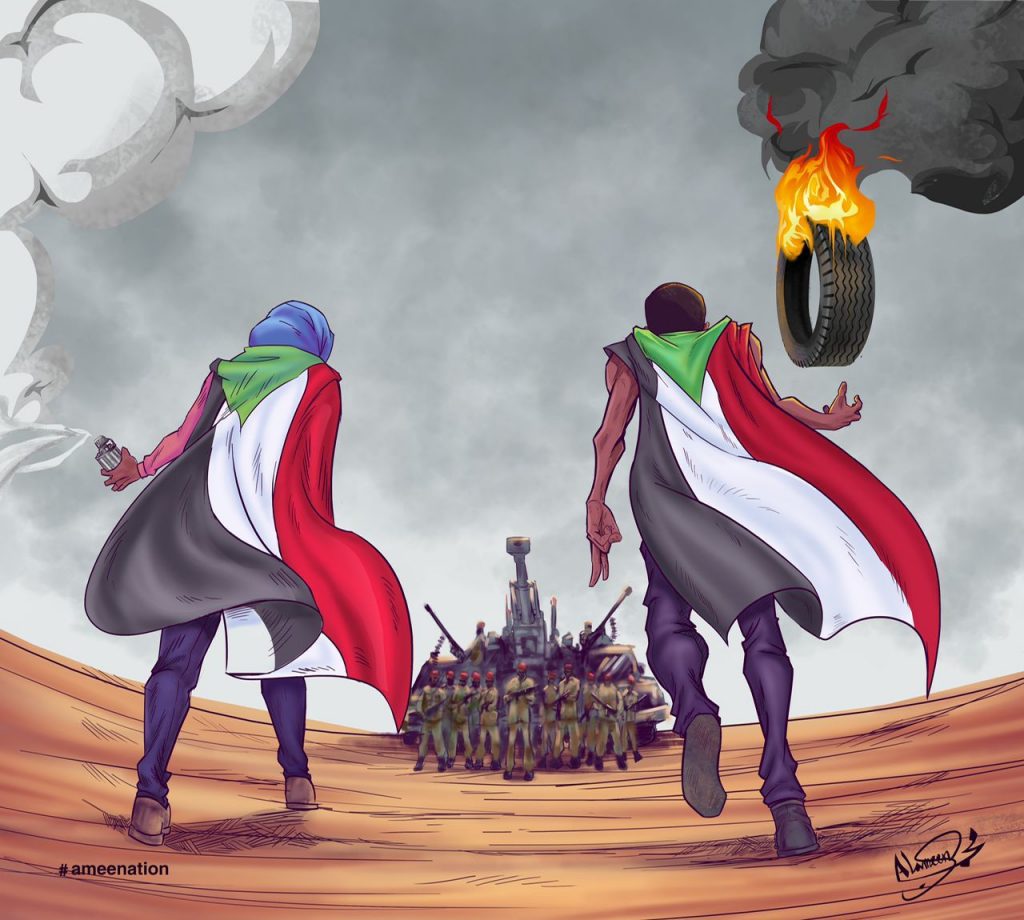 But civil society activists believe the actual numbers of injured are likely much higher. "The hospital I was treated at is completely full and more enter each day," said one activist to Ayin, preferring anonymity for security purposes. Some of those injured are succumbing to their injuries, says Dr Ihsan Fagiri. "There are still injured people coming into the hospitals," Dr Fagiri told Ayin, "this morning at 1 am another protestor, a young man from the resistance committee from the Kober neighbourhood, he died from injuries he received on the 25th of October."
Some of those killed were part of a civilian-led protest that took place outside the army headquarters on 25 October where soldiers used live ammunition against them. Gamal Abdel Nasir, 23, died of gunshot wounds to the eye and hand, the human rights organisation Amnesty International reported. "I couldn't even look at his body," his brother said. "His face was mutilated beyond recognition. He loved his country very much and he was my only brother."
Security forces also detained and harassed journalists covering the protests against the coup, including the Chief Editor of The Democratic newspaper, Al-Haj Warraq and freelance journalists Mahir Abu Al-Joukh and Maha El-Tilib.
Despite the challenges, citizens marched today in mass protests under the slogan "Leave!" across the country. One of many marches is to start from El Samrab [in Khartoum] and go all the way to the central station of Khartoum North, according to Dr Mohamed al-Fadil, a pharmacist who is determined to join the protest. "Yesterday, the resistance committee addressed the people in the neighbourhood regarding these plans. I am participating in the civil disobedience, and didn't go to work today," he said.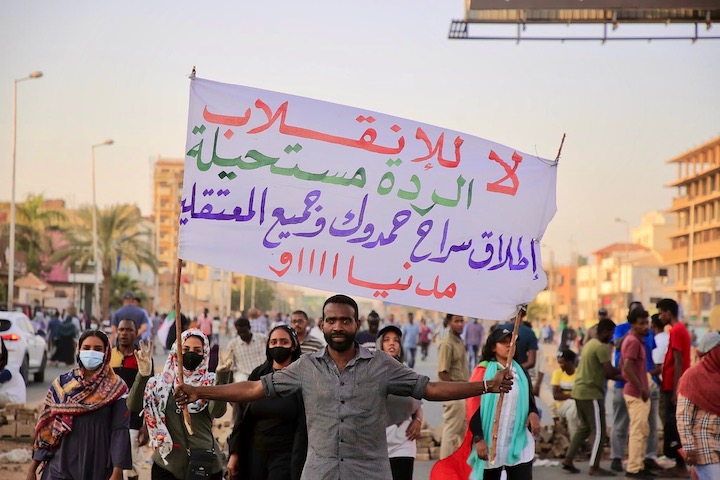 Already, Sudan's Bankers Association, Journalist Network, oil workers, among other professional associations, have launched civil disobedience campaigns, including the Central Doctors' Committee who have removed doctors supporting military hospitals. "We issued a statement on the 25th – before the speech of Burhan – declaring that in case a coup statement was broadcasted, we will immediately start a general disobedience campaign for all medical services except emergency rooms until the crisis ends," Dr Fagiri said.
International condemnation was almost as swift as the public's reaction. International envoys descended on Khartoum, warning of aid suspensions, targeted sanctions, and delays in international assistance on critical needs such as debt relief.
But whether international condemnation and mass public protests will ultimately sway the military's decision to cling onto power remains to be seen. Determined to remain in power to evade transitional justice, observers say, the military was never committed to a democratic transition in the first place.
Burhan, however, has claimed in a public address last Tuesday that he removed the cabinet to "avert civil war" after civilian politicians stoked hostility to the armed forces. He also alleged commitment to the democratic transition and hold elections in July 2023.
To maintain control at all costs and counter a democratic transition was always the military's plan, says Chief Editor of The Democratic Asmaa Jumaa. The string of conflicts and heightened insecurity, coupled with the fragmentation of the civilian part of the government, Jumaa says, was instigated by the military in the first place. "This coup should not come as a surprise to anyone – they have been preparing for this for some time now," Jumaa said. "And they are using the exact same methods of the previous regime to do it –by fragmenting political bodies, making them ineffectual."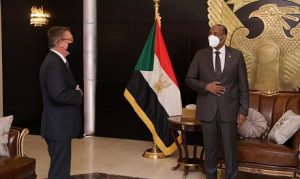 The U.S. Horn of Africa Envoy Jeffrey Feltman's plane had hardly left Khartoum's runway when Burhan reversed a pledge to the U.S. envoy to uphold the civilian leadership. In a meeting, just hours prior to the coup, Feltman had allegedly warned Burhan that the U.S. would withhold US$ 700 in aid if a military takeover took place. "I'm sure Burhan did not lose even a minute of sleep over that," says Cameron Hudson, Senior Fellow at the Atlantic Council and former chief of staff to the US special envoy to Sudan. More than half of the $700m was earmarked to support families, including subsidised wheat. "The military knew full well they were not going to get any of these funds," Hudson said. U.S. influence in Sudan may also be diluted since the military can access support, without any strings attached, from a multitude of other foreign actors. "It's a crowded place in Sudan -you have the Saudis, Russians, Emirates – you have all these outside actors that are vying for influence in the country."
But if domestic and foreign pressures may not influence the military – internal security rifts may prove Burhan's undoing, according to a security official in a previous interview with Ayin. The official says there are considerable rifts within the military –especially the leadership and lower-ranking officers—as well as a very tenuous relationship between the army and the paramilitary Rapid Support Forces (RSF). Internal security divisions may unravel at any time, the official said, which could lead to an even more fractured state.
Neither can Burhan rely on natural allies such as the Islamists from the former regime under Omar al-Bashir, says political analyst Mohamed Abdelaziz. "It's hard for Burhan to include Islamists in the government as his foreign friends (Egypt, United Arab Emirates, and Saudi Arabia) will not be pleased by such a move," Abdelaziz told Ayin. "Even though the former regime supported him in his agenda by initiating troubles in different states, contributing to the economic crisis and worsening security."
Facing internal, domestic, and foreign pressures could be one reason why Burhan may be making concessions towards Sudan's future leadership. One thing is for sure, the Sudanese public is determined to continue demanding for the government of their own choice.
"We hope that this pressure from the international community, the African Union, USA and other western countries, complemented by the internal efforts will work out," says Dr Ihsan Fagiri. "It's not only in the interest of Sudan not to have a military regime but also in the best interest of the whole world."