South Sudanese citizens respond to mass exodus from Sudan
15 May 2023
Sarah Joseph, like many South Sudanese in Juba and those residing across the border in neighbouring Sudan, was stunned. Few South Sudanese thought the war would break out in Sudan's capital, Khartoum, and even fewer predicted this would occur so abruptly on 15 April.
In the past, Sarah Joseph told Ayin, South Sudanese would feel compelled to flee violence in South Sudan and migrate to Sudan. Now thousands upon thousands of South Sudanese are fleeing in the opposite direction. Sarah wakes every morning, grabs a cooking stool and sits on the veranda with her right hand stuck on her phone –attempting to get an update on her mother's situation in Khartoum. Her mother was taken to Khartoum for medication for a chronic illness, she said, just two weeks before the start of the conflict in Sudan's capital city. Her situation is not unique.
Samson Duku, a student in Juba, says the war in Khartoum represents a terrible irony for his uncle –a director in one of the government ministries. "Since the 2013 conflict in Juba, he has refused to bring his family back to Juba and always says that Khartoum is the best. Now the best has given the old man sleepless nights. His family are still there," he said.
According to the International Organization on Migration (IOM), Sudan was home to roughly 800,000 South Sudanese, most fleeing conflict in their home country. Now at least 40,000 have returned to South Sudan –-fleeing yet another conflict–this time in Sudan.
After a week of intense fighting in Sudan with no incoming solution from the South Sudan political class on how to evacuate citizens trapped in the fighting, a group of youths in the capital Juba sprang into action. Thanks to social media, meetings and press conferences were organised and every citizen of goodwill was invited.
"Interestingly, the acting minister for foreign affairs, Hon. Deng Dau, attended and made some contribution in our first fundraising which yielded 400,000SSP (USD $3,070)", said Akoc Manhiem, the chair of the coordinating community. Akoc said that someone from the diaspora also pledged $5,000 during their first fundraising which was very encouraging.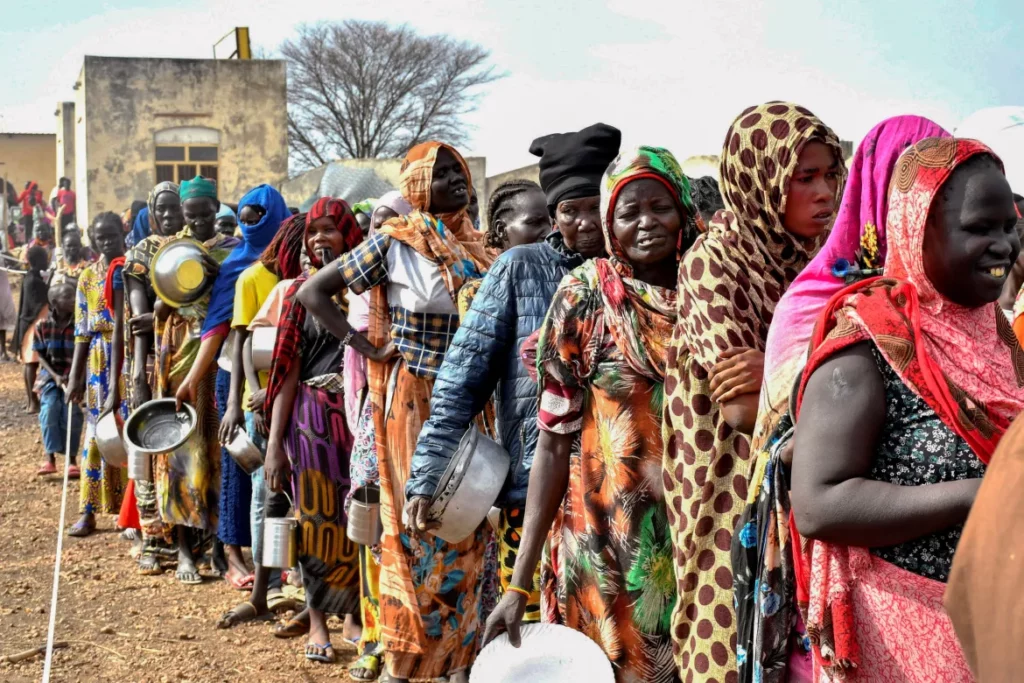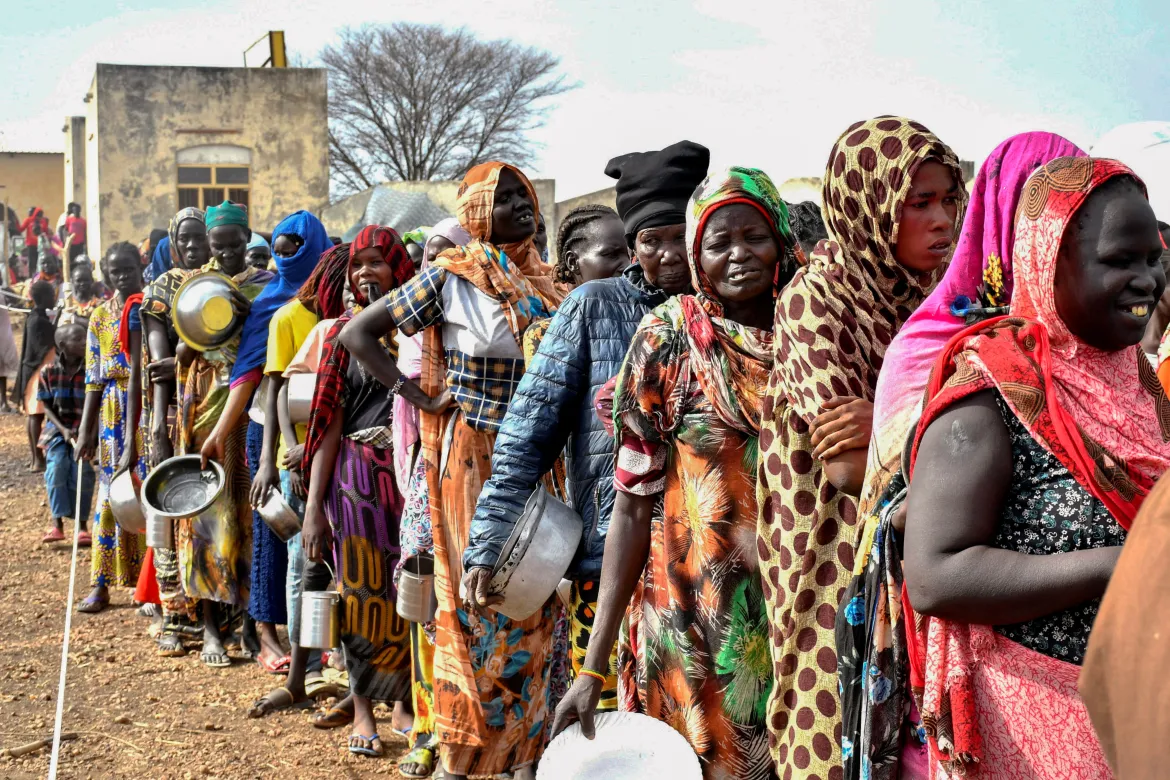 How it all started
"We anxiously monitored the situation in the first week, hoping for a quick end to the fighting. Unfortunately, the situation keeps worsening day by day with reports of a lack of food, water, and other basic necessities," Akoc said.
The tipping point for Akoc and the group was when other countries started evacuating their citizens from Khartoum. This led to the question, what about our fellow South Sudanese?
"Without further delay, we jumped into action regardless of the need to consult with the government and other stakeholders," he added.
The group set up a coordinating office opposite the US Embassy in Juba where citizens can contribute in cash or in kind. "We are currently focusing on evacuating those trapped in Khartoum to the border. From the border onwards, the government and development partners like the IOM and UNHCR have pitched camps there. We will only help with food items and other necessities as we are aware that most people are leaving Khartoum without carrying anything", said the group's logistics head, Emmanuel Ladu.
Ladu told Ayin they have coordinating teams in different locations in the capital where many South Sudanese reside, including Hai Youssif, Kala Kala, and Mayo. The teams have hired lorries to help in the relocation. "Due to the intense fighting, some neighbourhoods like Hai Youssif are still cut off from the assembly points", Ladu explains, adding that safety maps are drawn with the coordinating teams to aid in the evacuation.
Despite the success of this youth initiative, questions are being raised on the accounting aspect of contributions collected. An internally displaced person (IDP) from Bor who prefers not to be named less he is considered heartless in times of disaster remains sceptical of the initiative. "In 2020, when Bor town was flooded, many people came up with the same initiatives, money was collected and pocketed. There was no evacuation and we had to figure our own way out," he recounts.  Akoc, however, is quick to rebuff the sceptics. All cash collected by South Sudanese well-wishers is channelled through "Mgurush" (a local mobile money payment platform) and all cash collections are recorded and verified, he says.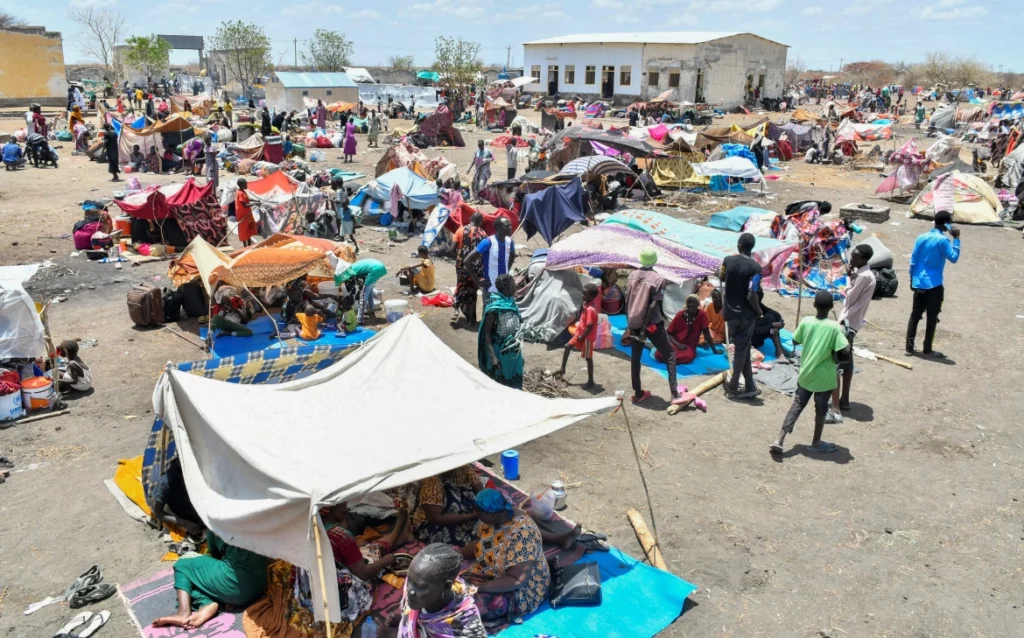 After the border, what next?
While South Sudanese officials and development partners have pitched camp along the border town of Renk, assistance remains in short supply. Due to inadequate shelter and accommodation at the border and the nearby town of Renk, some returnees have proceeded to the oil-rich town of Palouch –but even here support is limited.
The youth initiative to help their compatriots is one of many citizen-driven efforts. Some individual South Sudanese, particularly the business class have also decided to chip in.
The successful perfume executive, Sarah Enock, chartered a flight that brought 50 South Sudanese from Palouch to Juba. "This is the first of two flights. A second flight will also come. I want to urge fellow South Sudanese, businesspeople and the government to join hands in not only evacuating our loved ones to their hometowns but also supporting them to resettle," Enock said upon arrival of the first flight at Juba International Airport.
Earlier this month, the Somali business community also chartered a flight to evacuate their colleagues who made it to Palouch together with a few South Sudanese to Juba. This group of 200 evacuees managed to escape the shelling in Khartoum but faced fire in Juba. A flooded runway at Juba's airport caused the plane to slip and crash-land at the edge of the runway, according to the airport's managing director, Kur Kuol.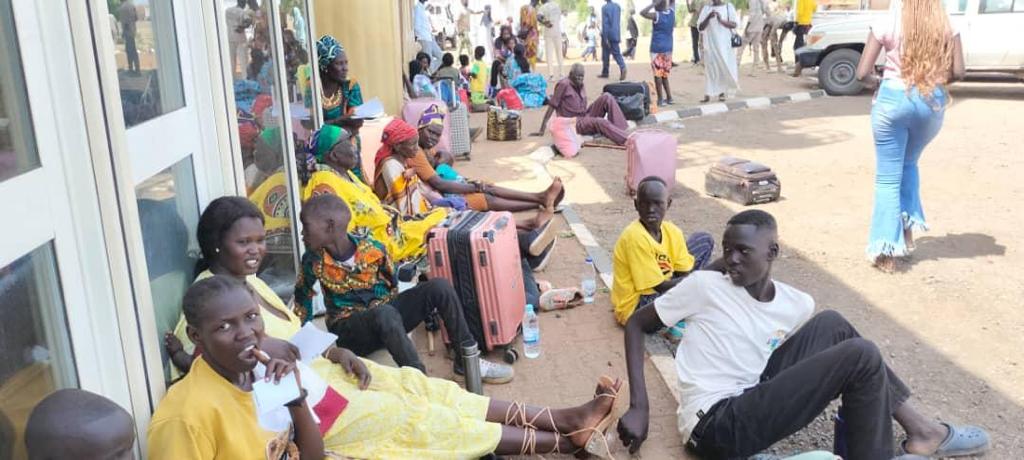 Government plan
Just days after a lawmaker in the national assembly representing Warrap State accused the government of inactivity linked to citizens trapped in Sudan, the government allocated 1 billion South Sudanese Pounds (roughly $7.6 million) to the Ministry of Humanitarian Affairs to respond to the dire humanitarian needs of South Sudanese refugees, according to a government address.
"There are more than 6,000 returnees entering daily through 12 border points. South Sudanese will be transferred to their areas of origin and supported from there as the government has no plans to set up an IDP camp," said Information Minister Michael Makuei in an address to the press.