4 November 2021
South Sudan's Ministry of Foreign Affairs claims their mediation efforts with Sudan have led to a breakthrough after Sudan's defacto leader Lt. Gen. Abdel-Fattah al-Burhan has agreed to release most of the political detainees in Khartoum, according to a statement by the ministry and news reports.
"Our High-Level delegation led by Hon. Tut Gatluak has just concluded a fruitful meeting with the Sudanese Military Leadership headed by Gen. Abdel Fatah Al Burhan in which they reached a major breakthrough on the status of the political detainees," the statement reads. 
The release of all political detainees has been a major demand of Prime Minister Hamdok's team before any meaningful negotiations can start in reversing the October 25 coup led by military leader Burhan. Dozens of people along with the political leaders, including lawyers and other professionals, have been arbitrarily detained and some allegedly tortured in an ongoing campaign against opponents to the military coup since the army seized power, according to local sources and news reports.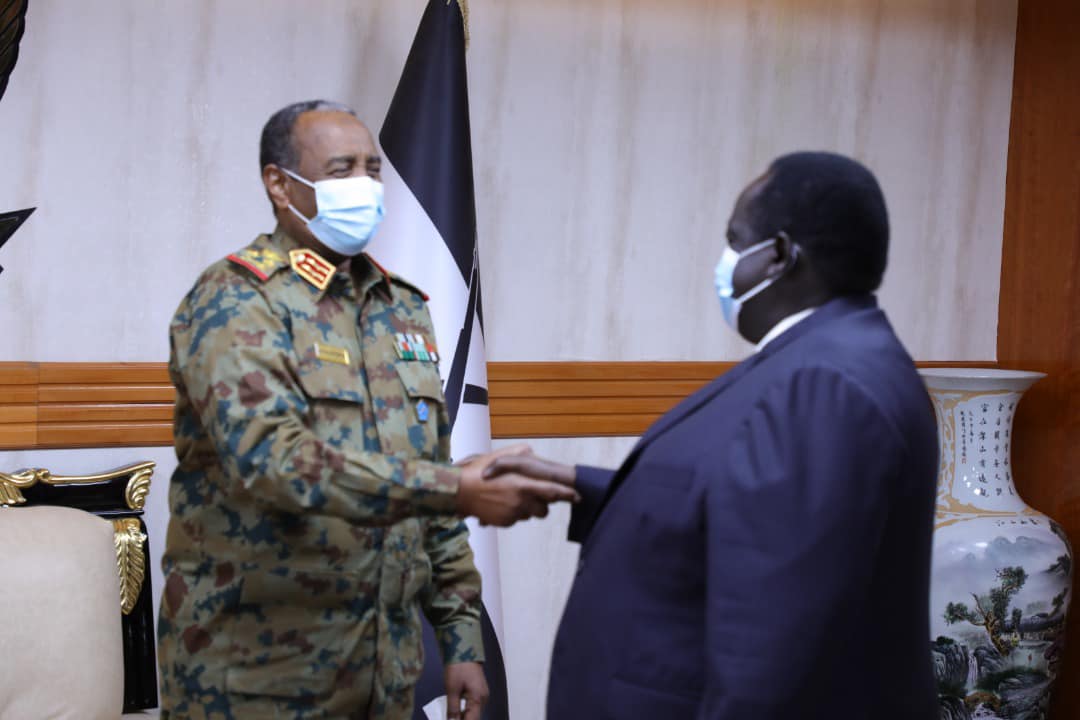 Deafening silence
After a week of silence, South Sudan's government's delegation traveled to Khartoum on Saturday to mediate the current political crisis in Sudan following the coup carried out by the military late last month.
"If Sudan's crisis is not resolved it can become a regional problem. South Sudan's oil passes through Sudan en route to the international market," according to a statement from South Sudan's Foreign Affairs Ministry. "Juba is concerned that continuous conflict in Sudan will negatively affect oil flow."
Despite the direct influence Sudan's coup has on Juba, South Sudan remained quiet about their neighbour's political instability, citing it as an internal matter. "The military coup in Sudan is their internal problem and we believe they will come to a conclusive solution to it. When we had our security challenges, they came in and mediated our peace, we also did the same to them when they had their issues but that does not give us the freedom to just poke in their internal affairs," Makuei told reporters in Juba last week.
Most observers have questioned why Juba was quick to condemn the September 21 attempted coup in Sudan against Burhan's military council and be very tacit on the one orchestrated by Burhan.
University of Juba Professor of Political Science Kuol Nyuon says South Sudan's wait-and-see game is a tactical move by Juba because they are not sure of which side will emerge victoriously.
"South Sudan and Sudan in the past has a history of supporting rebels in each other's territory, so with the uncertainty of who will emerge victorious in the standoff between pro-coup and anti-coup; Juba's silence might imply that they want to be considered neutral by the victorious party and avoid a breeding ground for pockets of rebellions in the country," Nyuon said.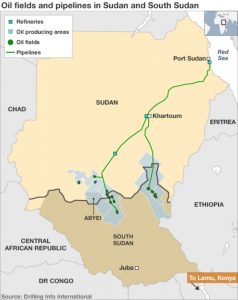 Feeling the pinch
Juba is already feeling the pinch. Last Wednesday, South Sudan confirmed temporarily stopping its crude export through Port Sudan due to the ongoing political crisis in Sudan. "We have stopped exporting oil to the international market since Monday because of the ongoing protests around the country as a result of the coup leading to oil workers downing their tools; on the issue of a storage facility, our storage capacity is still okay but it's our hope that export will resume soon very soon," Information Minister Michael Makuei told Ayin.
South Sudan depends 98% on oil revenues to finance fiscal expenditure. Oil production has decreased dramatically since last year in the northern oil fields with current production at 156,000 barrels per day (BPD) –nearly half its former production rate of 300,000 BPD– according to Nilepet, the official state oil and gas company.
In a briefing to members of the UN Security Council, the Special Envoy to the United Nation's Secretary-General for the Horn of Africa, Parfait Onanga-Anyanga said the events of the past week in Sudan could potentially negatively impact bilateral relations. "A newly agreed deal to resume export and border trade is a crucial step [to improve relations], but this has so far not materialised, having been overtaken by the unfolding events in Sudan," Onanga-Anyanga said.
Cross border trade
Immediate hopes of re-opening Sudan and South Sudan's border per a recent agreement after 11 years of closure were dashed after Sudan's coup, curtailing expected cross-border trading between the two interdependent countries. Despite over a decade of official border closures, profitable illegal border trade has taken place between the bordering communities.
Abdel Latif Ali, who hails from Northern Bahr el Ghazal State in South Sudan and illegally imports watermelon that he brings up to Juba is worried that their local crossing points will be closed as a result of Sudan's political insecurity.  "With this coup, both countries will beef up security along the common border especially along with the illegal crossing points which will make survival very hard for our families", Ali said.
Edmund Yakani, the Executive Director of Community Empowerment for Progress Organization- a local NGO in a statement called on President Salva Kiir's administration to take a proactive role in mediating the standoff between the military generals and their civilian counterparts.
"We have South Sudanese who are refugees in Sudan and if the situation continues to worsen, it will affect the humanitarian response. Anything that happens in Sudan has a direct impact on South Sudan's economy and her nationals living –whether in Sudan or South Sudan," he said.
Meanwhile, supplies of perishable goods like fruits and other consumer goods that are imported daily through cargo flights have already stopped. This follows the suspension of all flights to and from Khartoum International Airport.
Alfred Wani who was scheduled to fly to Khartoum for a routine cancer check-up is worried of his life following the suspension of flight. "I don't know what I will do if the situation continues like this. This might just send me to an early grave."