5 January 2020
Talks between Sudan, Egypt and Ethiopia on the Grand Ethiopia Renaissance Dam (GERD) temporarily resumed Sunday after a month-long hiatus but ended with no clear negotiation plan ahead.
Sudan will continue to hold off from further tripartite discussions until the African Union, the mediator to the talks, plays a larger role in the negotiation process, according to a press statement issued on Monday.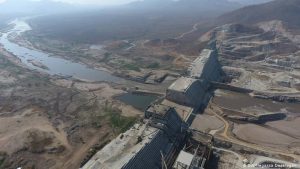 Talks on GERD were suspended in November after Sudan demanded a change in the negotiation methodology that called for a greater role to the African Union (AU) in reaching a binding agreement.
"When we started the African-Union led negotiations there were limited disagreements," explains Sudan's Minister of Water and Irrigation, Dr Yasser Abbas. But during the 19 November talks, both Egypt and Ethiopia suddenly changed their position, the minister said, which led Sudan to suspend talks, seeing the discussions were going nowhere.
While Ethiopia accuses Sudan and Egypt of denying them access to their own water resources using an out-dated colonial agreement, Egypt accuses Ethiopia of depriving them of its water supply, Minister Abbas said, "but both stories are not correct." In the minister's view, Sudan has held a far more conciliatory tone – recognizing Ethiopia's right to build a dam while under an obligation not to harm Sudanese people living downstream to the dam.
One of Sudan's key demands is a binding agreement to avoid what Ethiopia did last year: filling the GERD in July 2020 without consultation. "Proceeding to fill without an agreement is a huge risk for Sudan, we need to work on not making this the most probable scenario. From our side, we will do all our preparations for a worst-case scenario, for example, getting the data without them and modify our operation of Al Roseires Dam," the minister told Ayin.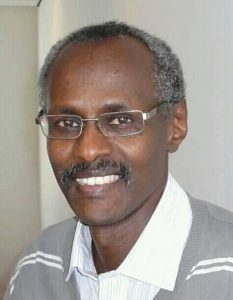 Change in political tone
The minister says Sudan will take a more political and less placatory tone with the two negotiating countries going further. "Sudan isn't a weak country to always be begging for its rights," he told Ayin. "It's time for Sudan to alter its approach and politicise the GERD issue – just like the other two parties – and we have started that by further involving the media, engaging the public and initiated a national campaign for this issue." A more open, public awareness campaign for Sudanese citizens is now underway, he said, adding that all components of the Sudanese government are on the same page regarding GERD, including new partners from the Juba peace agreement.
The three countries held the latest talks by video conference in the virtual presence of South African officials as well as other international observers and experts. South Africa is the current head of the African Union's rotating council. Without receiving any assurances of a greater role to be played by the AU, however, Sudan's participation in the GERD talks remain frozen.
"The African Union failed to bridge the gap between these three countries due to complications within Egypt and Ethiopia," political analyst and writer Mohamed Abdelaziz told Ayin. With South Africa soon ending its term as head of the AU, Abdelaziz sees little hope for any breakthrough agreement between the three countries in the near future.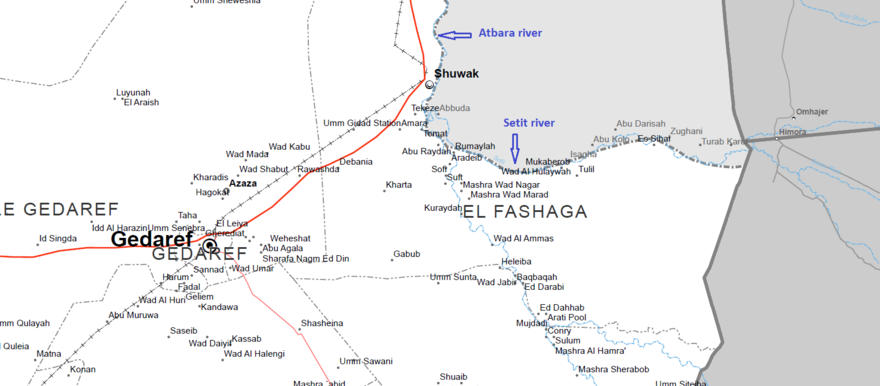 Border tension
Sudan also remains in a political standoff with Ethiopia over an on-going border issue. Last Thursday, acting Foreign Minister Omar Gamer El-Din told reporters the army had "recovered" all agricultural areas occupied by Ethiopian farmers and militiamen. The acting foreign minister claims Sudan has documents confirming ownership of the border areas where the Sudan Armed Forces (SAF) are deployed. Markers, the minister said, are being placed every two kilometres to identify the territory.
Earlier in December, SAF took control of the area of Khor Yabis in El Fashaga, eastern Gedaref.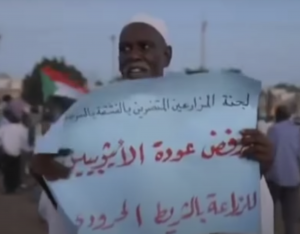 The Head of the Sovereign Council, Lt. Gen. Abdel Fattah al-Burhan made a reassuring statement last week during Independence Day celebrations, stressing that Sudan "will not cross international borders or attack neighbouring Ethiopia." This followed a December offensive where Lt. Gen. Khaled Abdin al-Shami, deputy chief of staff of the Sudan army, announced that Sudan had regained 80% of the land "lost 20 years ago" and inhabited by Ethiopian militias. The deputy chief said in news reports that "the armed forces have completely secured these areas and are ready to face any party contemplating attacks against them."
At the same time, Ethiopian Foreign Minister Demeke Mekonnen accused Sudan of using the country's conflict with Tigray to advance towards Ethiopian territories –claiming Ethiopia would take action if Sudan did not stop what it described as "illegal activities" along the border.
But both sides of the border may be sabre-rattling to appease their constituents rather than risk initiating another costly conflict neither side can afford. Dina Mufti, the spokesperson for the Ethiopian Foreign Ministry, told Al-Jazeera, for instance, that his government would step up its efforts to resolve the conflict, seemingly dismissing comments made by his minister. The same spokesman, however, said on a local Ethiopian radio station, Ethio FM 107.8, that Ethiopia is ready for a counteroffensive, claiming their forces "are in stand-by 24/7 and are prepared to defend its sovereignty."
According to Abdelaziz, the central Ethiopian government may not instigate conflict with Sudan but regional, federal militia forces under Amhara leadership, Ethiopia's second-largest ethnic group, may continue a protracted offensive.
The long border debate
Under 1902 colonial rule, the Al-Fashaga region falls on the Sudanese side of the delineated border. The Ethiopian delegation refused to recognise this border in the December talks held in Sudan's capital, Khartoum. The meeting ended, as they did in 1998, without an agreement.
Former president Omar al-Bashir maintained a 'soft border' for the 600 square kilometres of fertile borderland since the 1990s, allowing Ethiopian farmers to settle in Al-Fashaga in return for political support. But tensions resurfaced after the new transitional government in Sudan demanded its land back. On December 19, after an ambush killed four Sudanese army personnel on a patrol inside the Al-Fashaga region on December 15, Sudan launched a military operation to retake this area.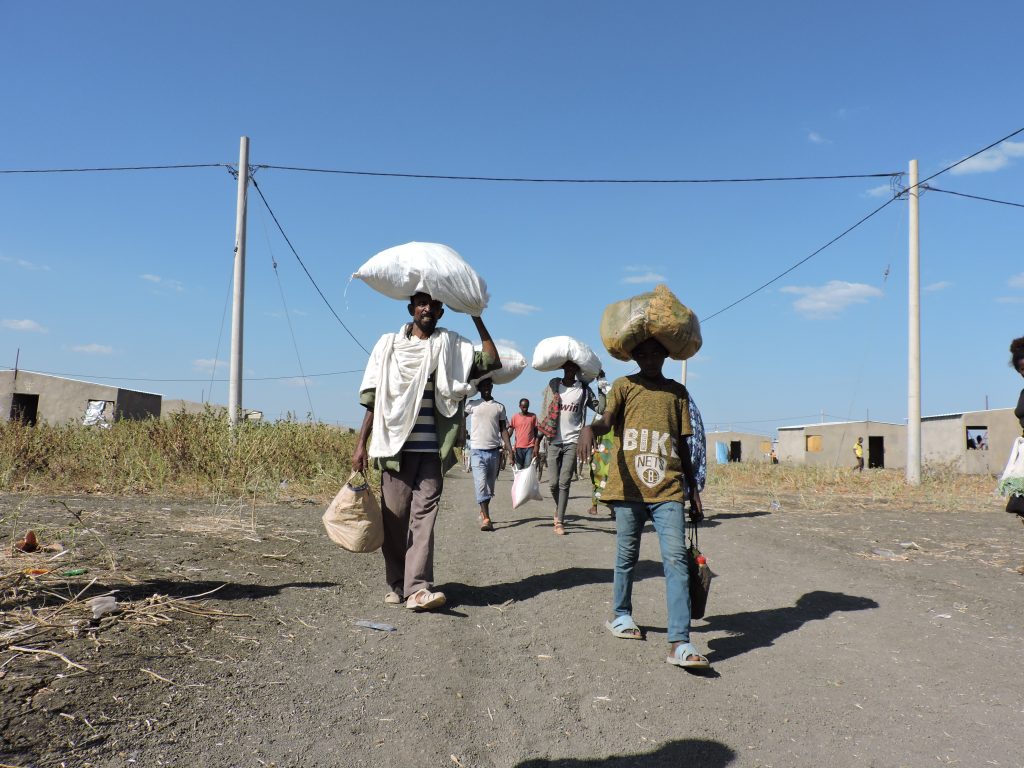 Refugees still coming
While tensions continue, Ethiopians fleeing the country's internal war in the Tigray region continue to cross the contentious border. According to the UN refugee agency, there are now close to 61,000 Ethiopian refugees entering eastern Sudan after renewed clashes last week with Ethiopia's rebel group, the Tigray People's Liberation Front (TPLF). Sudanese authorities opened a new camp for Ethiopian refugees last Sunday in al-Tindeba, Gedaref State, after cases of Covid-19 were reported in Um Rakooba Camp. Now authorities are transferring around 500 refugees per day from the Hashaba reception centre to the new camp, the UN reported.