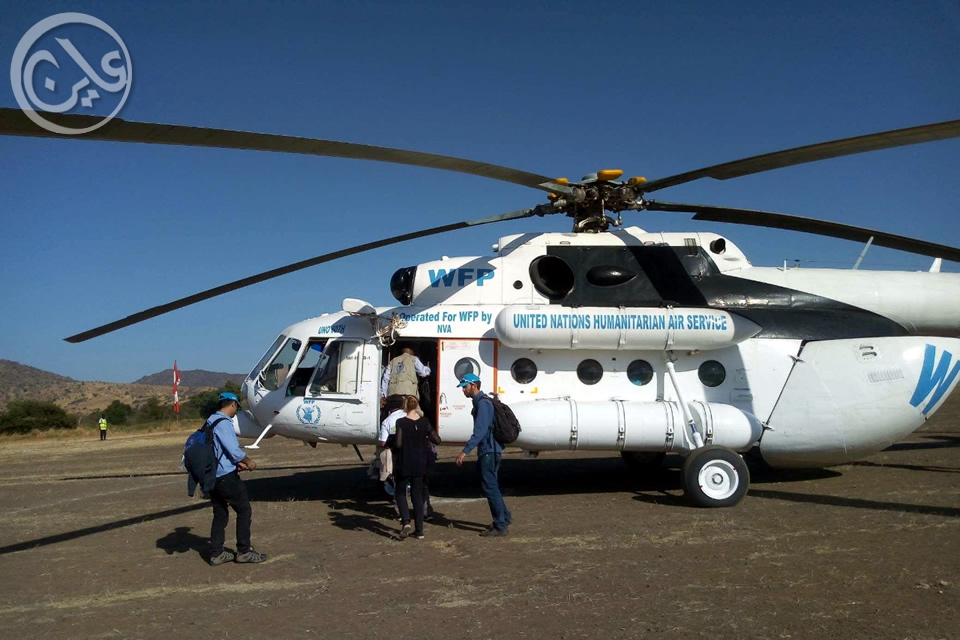 "All people came from different villages, sometimes spending three days walking on foot so that they could see the man from the World Food Programme [WFP]," said Eman Bolis Abdullah, a war-weary resident of the Nuba Mountains in South Kordofan State in reference to the UN agency's historic visit to the area in October. "We hope WFP can support us, especially women, we are under-developed, having lost our dads, husbands, [it's] a very tough life. We want to live like other people in Sudan."
After an eight-year ban by the former government, humanitarian agencies are now openly accessing the rebel Sudan People's Liberation Movement-North (SPLM-N) controlled areas under SPLM-N Chairman Abdelaziz Al-Hilu. On 31 December, six UN agencies arrived in the rebel-held capital Kauda, South Kordofan State, after the long hiatus. The UN mission representatives, including WFP, UNICEF and the UN High Commission for Human Rights, visited various schools, health centres and other facilities as part of their preliminary assessment, according to an SPLM-N statement.
This historic entry started last October after the new transitional government gave WFP access permission. Since then WFP Executive Director David Beasley visited Kauda on 23 October and, nearly two months later, the SPLM-N controlled town of Yabus in Blue Nile State.
The former regime under president Omar Al-Bashir had conducted a war of attrition against the rebel-controlled areas, targeting food supplies and even agricultural machinery, the SPLM-N Agriculture Minister Hafsa Idriss told Ayin back in 2016. The new access under the transitional government "confirms that the old mentality of the ousted regime of Al Bashir has gone and there are new people in Khartoum," SPLM-N Chairman Al-Hilu told a crowd of his supporters upon WFP's visit to Kauda.
The much-needed aid may also engender enough confidence between the SPLM-N and government to push the peace process forward. Disputes over aid access routes constituted the main stumbling block to peace negotiations with the previous regime and a key reason why international aid delivery must be conducted carefully in the days ahead.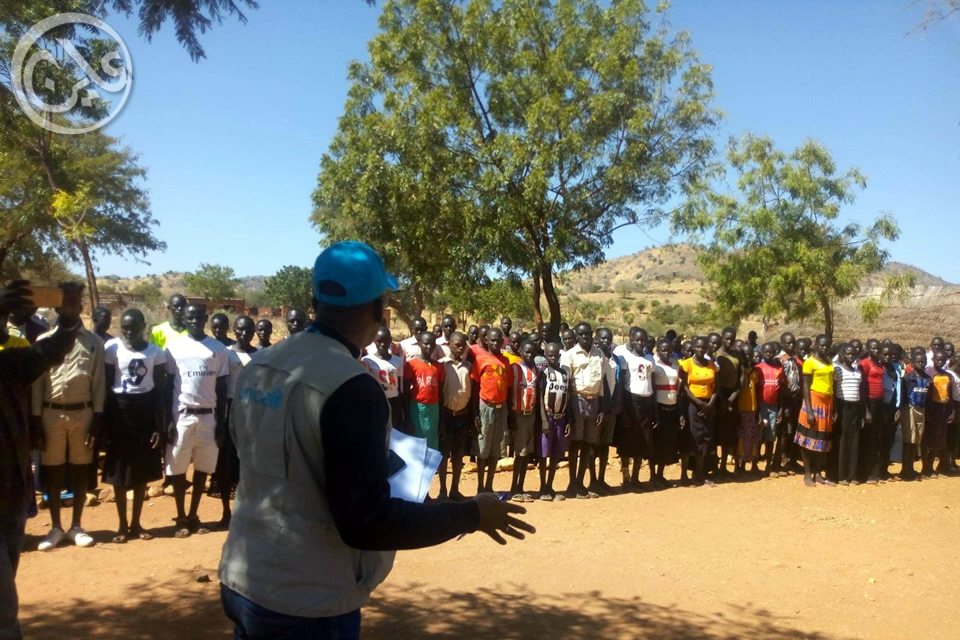 New roads
In mid December, Al-Hilu opened a number of roads in the Nuba Mountains, including the main roads to Kauda and another town, Heiban, in South Kordofan State. A week before, WFP's David Beasley visited Yabus, a remote, southern rebel stronghold in Blue Nile State. "These people you see around have suffered greatly," Al-Hilu announced during a ceremony marking his visit, "they have endured tremendous hardships, aerial bombardment and deprivation from basic humanitarian needs. If you were to have time, it would have been good to see for yourself the destruction of schools, hospitals, clinics, churches and mosques that have taken place."
WFP hopes to capitalise on some of its existing projects in Blue Nile State, including its school meal programme and post-harvest loss activities, and expand them into other areas of the state and scale up interventions where needed, World Food Programme (WFP) External Relations Officer Woo Jung Kim told Ayin. In an interview with the U.S.-backed broadcaster Voice of America, Beasley expressed his admiration of the spirit and resilience of the people living in the SPLM-N areas, despite being largely cut off from humanitarian aid for many years. He cautions that this "is not the end of the story, we got a lot more work to do but this is an extraordinary beginning of what appears to be a new day."
The two conflict areas are some of the worst affected in terms of food insecurity within the country. According to the South Kordofan-Blue Nile Coordination Unit, an organisation that monitors food security and displacement in the two areas, over 550,000 people are in need of emergency assistance –including food and primary health care. Reportedly, at least 60,000 children in these areas have not been vaccinated in the last five years and over 165,000 school-age children are out of school.  The Persecution Project Foundation, an aid organisation that operates in the Nuba Mountains, provided 80 percent of all medicine to the area but this represented less than half of what they needed over a 12 month period, according to Brad Philips, the project's director and president.
While some improved harvests have been reported across the country in November, flooding has taken its toll on key crops. Extraordinary rains in October this year in Delami County in the Nuba Mountains severely affected staple crops of sorghum, groundnuts and sesame, the Nuba Human Rights Monitoring Organisation said. During the same month, the Coordination Unit estimated around 32,000 people were affected by flooding in Southern Kurmuk County, Blue Nile State. WFP are planning with other UN agencies to conduct a needs assessment mission to identify the most affected areas of South Kordofan and Blue Nile states, Woo Jung Kim said.
But conditions may strain further in South Kordofan as hundreds of refugees from Yida Camp in South Sudan are returning to the SPLM-N controlled Nuba Mountains after the UN refugee agency cut rations in September. "There is a lot of challenges, a lot of people are going to be returning since the economic situation in Khartoum and those areas will not improve with a snap of a finger," Philips said. "There are already a lot of returnees going back to the rebel-controlled areas, which could potentially add more pressure."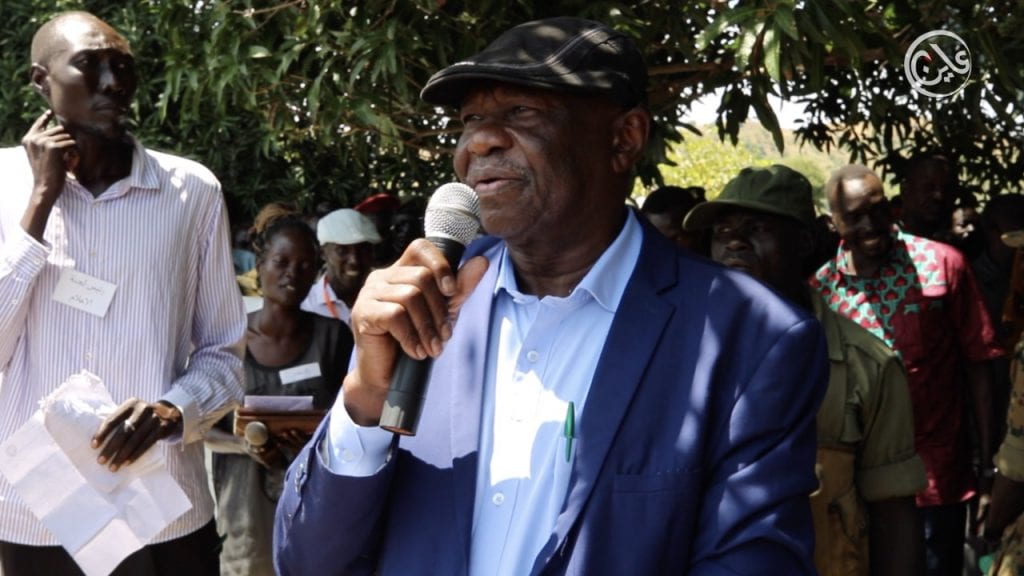 Aid with caution
While WFP's entry into the rebel-controlled areas is welcomed by the new government, the SPLM-N and the citizenry within the rebel-controlled areas, aid must be delivered with care and sensitization, humanitarian actors working in the area told Ayin. After the former regime launched decades of bombings and attacks on citizenry in the rebel-controlled areas, levels of distrust are deep. In 2016, disputes over humanitarian access points into the SPLM-N controlled areas between Bashir's government and the rebels remained the key impasse to the peace talks. With deep mistrust of one another, Bashir' government insisted in 2016 on cross-line humanitarian assistance emanating from Sudanese territory, while the SPLM-N insisted that at least some aid must come through adjacent countries. "The same person dropping bombs on you, burning down your granaries, the same person shooting you – how can he be the same person giving you food?" Ali Abdelrahman, director of the Nuba Mountains Relief, Rehabilitation and Development Organization (NRRDO), a community-based support group, told Ayin back in 2016.
"The level of distrust is deep," said the Kauda- based aid worker, "When they have killed your loved ones in front of you – these feelings take a long time to bring trust back. Rebuilding trust has to start at the grassroots."
Citizens in the SPLM-N-controlled areas are also acutely aware that elements of the former government are still in power and may sabotage developments at any time. On 14 October, the very day peace talks started between the new government and the SPLM-N delegation in Juba, members of the infamous Rapid Support Forces (RSF) attacked civilians in Khor Warai village, wounding 17 people and looting their property, according to the Nuba Human Rights Monitoring Organisation. A day later, RSF forces attacked civilians travelling between Delami County and Western Jebel and abducted 16 civilians, looting all of their belongings.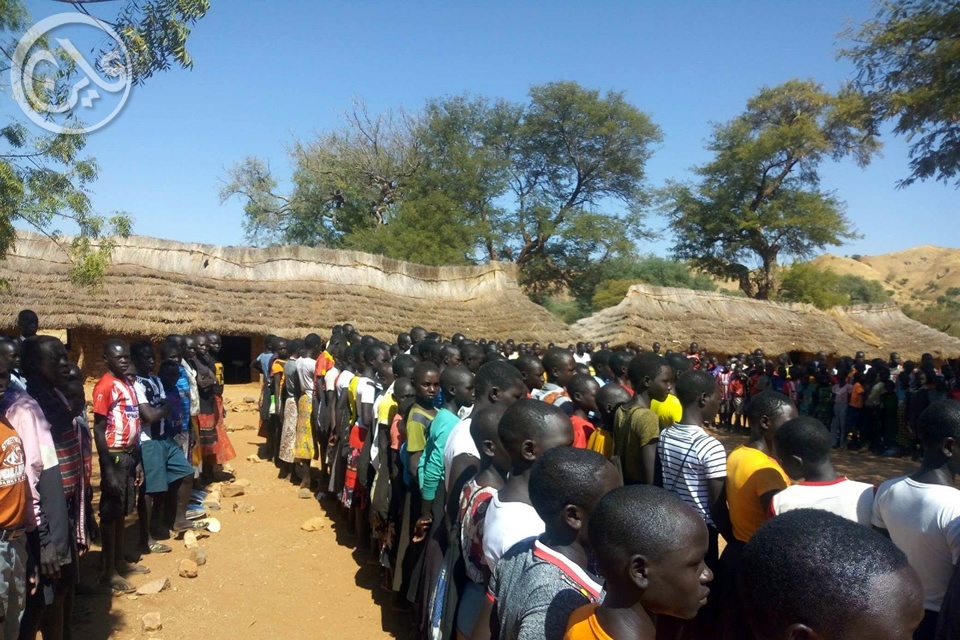 Resilience over dependency
Humanitarian aid delivery to the rebel-controlled areas must also be strategic and compliment the coping mechanisms already in place, according to a November policy paper by the Coordination Unit. "The priority should be focusing on the resilience of people," said the Kauda-based aid worker. "Good, quality education, farming equipment and training –not just food distribution." This approach, the aid worker said, is crucial to avoid a dependency syndrome and compliments the Nuba people's self-reliant nature. "Last time I was here [in the Nuba Mountains] I found people requesting tractors and seeds instead of relief aid, even though harvests were poor."
This may be one reason why many youths in the Nuba Mountains are seeking access to education as a priority. "When war broke out in the Nuba Mountains for a second time, many people lost hope," said Sara Ali Musa, a Kauda-based secondary student. "When WFP came, people were happy. We hope they can collaborate with UNICEF to help people get an education so people can build a better life for themselves and others in our areas."